This article is about the castle. For other uses, see Gassenarl (disambiguation).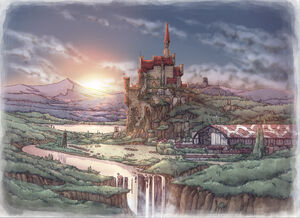 Castle Gassenarl is an old castle near the Kloden Wildwood in southern Gallia. The area has been ruled by House Gassenarl since medieval times. The natural fortress surrounded by forest and hills was defended against an Empire attack by army forces led by House Gassenarl in 1935.
As the base of operations of the GRA commanders, it has been remodeled into a military facility with strong fortifications. All attempts to assail it since the outbreak of the Gallian Civil War have been met by formidable resistance.
Ad blocker interference detected!
Wikia is a free-to-use site that makes money from advertising. We have a modified experience for viewers using ad blockers

Wikia is not accessible if you've made further modifications. Remove the custom ad blocker rule(s) and the page will load as expected.