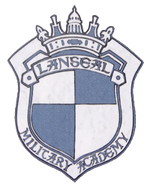 Information
Edit
Class D or Squad D is one of the seven classes of the Lanseal Military Academy that took part in the Gallian Civil War. Over the course of the war, Class D suffered heavy casualties and was disbanded. The remaining members, including its class chair Remi Noah were absorbed into Class A and Class B. Unfortunately, the cadets that joined Class B were also killed soon later as Class B was wiped out during Lanseal's assault on Anthold in November 1937.
Major Engagements
Edit
Other unknown engagements.
Ad blocker interference detected!
Wikia is a free-to-use site that makes money from advertising. We have a modified experience for viewers using ad blockers

Wikia is not accessible if you've made further modifications. Remove the custom ad blocker rule(s) and the page will load as expected.