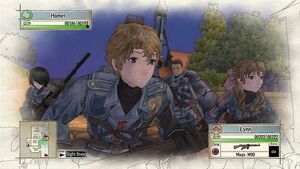 The Edy detatchment
is a loose-knit group of
Squad 7
members, led by
Edy Nelson
who by chance and misadventure find themselves separated from the main body of Gallian troops.
They star in two of the four sets of Valkyria Chronicles DLC.
ShocktroopersEdit
EngineersEdit
Apperance
Edit
The Edy Detatchment appear in the following games:
Valkyria ChroniclesEdit
Valkyria Chronicles 2Edit
Bonus squad unlocked with password CR6BG1A9LYQKB6WJ
Valkyria Chronicles 3Edit
All members of the Edy Detachment appear as members of Squad 7 in the Valkyria Chronicles Anime with the exception of Lynn, who has a cameo appearence late in the series.
Ad blocker interference detected!
Wikia is a free-to-use site that makes money from advertising. We have a modified experience for viewers using ad blockers

Wikia is not accessible if you've made further modifications. Remove the custom ad blocker rule(s) and the page will load as expected.