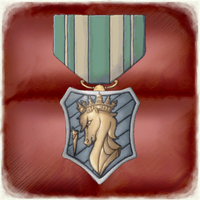 User who have significant contribution to this project will be awarded with The Splintered Horn medal.
Guidelines
Edit
This project is centred around improving the Valkyria Chronicles Anime page and all associated pages.
The scope of these improvements include:
Episode by episode write up
Additional info appropriate character pages
New character pages for anime only characters
High quality screen shots uploaded to the gallery
Contributors
Edit
Ad blocker interference detected!
Wikia is a free-to-use site that makes money from advertising. We have a modified experience for viewers using ad blockers

Wikia is not accessible if you've made further modifications. Remove the custom ad blocker rule(s) and the page will load as expected.