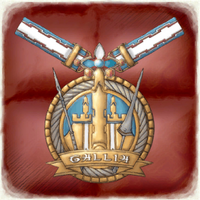 User who have significant contribution to this project will be awarded with Savior of Gallia
Guidelines
Edit
Valkyria Chronicles 2 mission pages have the following layout:
Introduction: A brief introduction to the page including the Template:Infobox mission with picture.
Story: Brief overview and write up of the major plot points of chapter's storyline before the chapters battle.
Mission Briefing: Mission briefing to include objectives, special conditions, area effects. etc.
Strategy: Bullet pointed guide, this isn't GameFAQs so only cover very basic strategy and events of the battle including ace locations, always mention that your soldiers need to be trained and your weapons and equipment upgraded in the first bullet point.
Rewards: Always Ducats and Exp, Ace weapons should be noted if present.
Aftermath: Brief overview and write up of the major points of chapters storyline after the chapters battle.
Notes/Trivia: Anything else worth mentioning.
Contributors
Edit
Ad blocker interference detected!
Wikia is a free-to-use site that makes money from advertising. We have a modified experience for viewers using ad blockers

Wikia is not accessible if you've made further modifications. Remove the custom ad blocker rule(s) and the page will load as expected.