Largo Potter


Information
Birth Date
c.1899 (Aged 38 by 1937)
Height
185cm
Affiliation
Gallian Militia
Unit
Squad 7
Rank(s)
Sergeant
Role
EWI veteran
Gallian militiaman (former)
Farmer
Unit Class
Lancer
Likes
Brigitte "Rosie" Stark
Hannes Salinger
Jann Walker
Appearances

Valkyria Chronicles
Valkyria Chronicles 3
Valkyria Chronicles 4
Valkyria Chronicles Anime
Valkyria Chronicles 3 OVA

Voice Acting
Japanese
Hisao Egawa
Kenji Nomura (Anime)
English
Fred Tatasciore (VC1)
Patrick Seitz (VC4)
"It makes me sad when people don't speak openly. No one can grow in an environment like that."
—Largo Potter, Valkyria Chronicles 3
Sergeant Largo Potter (ラルゴ・ポッテル, Largo Potter?) is a thirty-six year old Squad 7 lancer who appears in the original Valkyria Chronicles videogame and the leader of Squad 7's lancer division. He reprises his role in the Valkyria Chronicles Anime as a main character. He is voiced by Kenji Nomura in the anime.
Profile
Appearance
Personality
Biography
A veteran Anti-Tank specialist who fought bravely in the First Europan War (E.W.I) in squad 7 alongside, the now Captain, Eleanor Varrot. Declining many offers of promotion he remained as a lancer in squad 7 at the beginning of EW2. Due to his views on experience being the only valuable trait in a soldier he was initially skeptical, even unsupportive, about Welkin Gunther's command. Only after the brilliant tactics displayed in recapturing the Vassel Bridge was Largo ready to accept Welkin's command of squad 7. He is the senior non-commissioned officer of squad.
Story
Other Appearances
Samurai & Dragons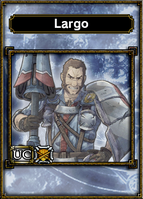 Largo makes an appearance in Samurai & Dragons as a UC monster card. As a UC monster card, Largo is of the Mercenary race and possesses the base skill, Defend Shift.
Trivia
During a cutscene in VC2, Welvar Glenn mentioned that Largo Farm supplies Lanseal with watermelons, possibly with other products as well.