Mini Valkyria Chronicles Gashapon Figures released in two sets. The first set features several popular characters in Gallian militia uniforms. The second set features the main female cast of Valkyria Chronicles in their bikinis as seen in the report Squad 7's R&R.
SR Valkyria Chronicles Collection Part 1
Edit
SR Valkyria Chronicles Collection Part 2
Edit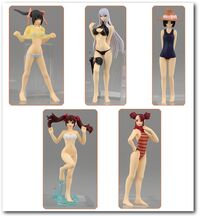 Ad blocker interference detected!
Wikia is a free-to-use site that makes money from advertising. We have a modified experience for viewers using ad blockers

Wikia is not accessible if you've made further modifications. Remove the custom ad blocker rule(s) and the page will load as expected.