NOTICE: This article is about a special event that has now ended.
In a Tokyo Game Show related
announcement
, Wargaming has announced that it has teamed up with Sega to include Valkyria Chronicles in the mobile tank action game, World of Tanks Blitz.  The trailer featured shows two tanks from the series in the game itself, the
Edelweiss
 from the original
Valkyria Chronicles
 and the
Nameless Tank
 from
Valkyria Chronicles 3
.
This is not the first time Wargaming decided to do a collaboration event with other Japanese titles. The PC version of World of Tanks features the Girls Und Panzer anime series. The naval action game World of Warships features warships from the T.V. Adaptation of Arpeggio of Blue Steel "ARS NOVA", and the recent anime series High School Fleet, which was announced during Tokyo Game Show 2016.
The two tanks will be available for purchase from September 15th to September 30th this year. Each tank costs 24.99 USD each, with a bundle containing both tanks listing at a 10% discount at 44.99 USD.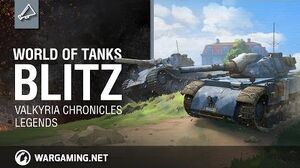 Ad blocker interference detected!
Wikia is a free-to-use site that makes money from advertising. We have a modified experience for viewers using ad blockers

Wikia is not accessible if you've made further modifications. Remove the custom ad blocker rule(s) and the page will load as expected.