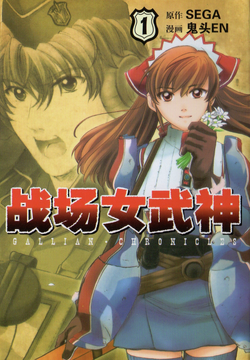 Valkyria Chronicles: Gallian Chronicles, serialized by Kadokawa Shoten's Comp Ace, is a manga loosely based on the game, Valkyria Chronicles.
In an alternate Earth, the armies of the Imperial Alliance have ravaged the entire Europan continent in 1935 EC during the Second Europan War. In the middle of the war, the army invades Gallian territory to acquire a mineral known as ragnite. Standing in their way is a recently drafted militia officer named Welkin Gunther, son of known Europan War hero, Belgen Gunther.
It is written by Sega and authored by Kito En, it was released and serialized on November 26, 2008.
Ad blocker interference detected!
Wikia is a free-to-use site that makes money from advertising. We have a modified experience for viewers using ad blockers

Wikia is not accessible if you've made further modifications. Remove the custom ad blocker rule(s) and the page will load as expected.