Welcome to the Encyclopedia Europa!

The wiki about Valkyria Chronicles that anyone can edit.

1,424 articles Since April 2010!
| | | |
| --- | --- | --- |
| Characters | Locations | Classes |
| Vehicles | Weapons | Backstory |
Featured Article
Valkyria Chronicles 3 (戦場のヴァルキュリア3 Battlefield Valkyria 3: Unrecorded Chronicles) is the second Valkyria Chronicles game developed and published by Sega for the PlayStation Portable. It is the third game in the Valkyria Chronicles series and was released on January 27, 2011 in Japan.
Occurring in the same time frame as the first game, Valkyria Chronicles III is a side story that follows the exploits of an unwanted and castigated Gallian Army squad during the Imperial invasion of 1935.
Sega revealed in mid 2011 that due to dissapointing sales of Valkyria Chronicles 2 in the West there are no plans to release the third installment in US/EU territories leading to a fan lead campaign by the Gallian Liberation Front.
Featured Video
Gallian Liberation Front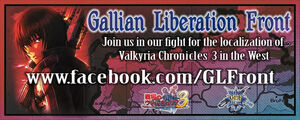 Valkyria Chronicles survey (See results)
Discord Chat
Active Wiki Projects
News
Sega has announced Valkyria Chronicles 4 for the PS4, Xbox One and Switch platforms due for release in the Americas, Europe and Japan in 2018.

In Japan, the standard edition of Valkyria Chronicles 4 for…

Read more >

Valkyria Revolution is now available on Playstation 4, Xbox One, and digitally on Playstation Vita.

This spin-off to the well-known Valkyria Chronicles series should give players the setting of the or…

Read more >

Valkyria Azure Revoultion has their own cast of characters. A lot of them comes from the Vanargand, the Anti-Valkyria Unit under Amleth. However, their are also other characthers in Jutland and the R…

Read more >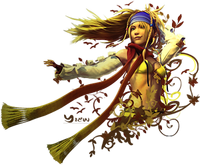 JRPG Games
Go to these sites for info or for help with your own wiki!
7th Dragon III Code:VFD • Aselia • Atelier • Battle Chasers: Nightwar • Breath of Fire • Chrono • Dinosaur King • Disgaea • Dragon Quest • EarthBound • Etrian Odyssey • Fairy Fencer F • Final Fantasy • Golden Sun • Grandia • Hyperdimension Neptunia • Kingdom Hearts • LOST SPHEAR • Mana / Seiken Densetsu • Megami Tensei • Parasite Eve • Phantasy Star • Pokémon • Riders of Icarus • SaGa • Star Ocean • Suikoden • Valkyria Chronicles • The World Ends With You • Xenoblade • Xenosaga • Yo-Kai Watch
Want your community included? See how!
See all of our JRPG gaming wikis!